On March 10, Mansur Gavriel, a New York City fashion accessory company founded in 2012 by Rachel Mansur and Floriana Gavriel, filed a trade dress infringement, unfair competition, deceptive trade practices and trade dress dilution suit against several Italian companies, claiming that they are manufacturing, distributing and selling knock-offs of several of Plaintiff's models, including its famous MG bucket bag. I will only address the trade dress infringement claim in this blog post.
To establish a claim for unregistered trade dress infringement, a plaintiff must demonstrate that the claimed trade dress (1) is distinctive, (2) is nonfunctional and that (3) its imitation would likely cause confusion for consumers as to the source of the product.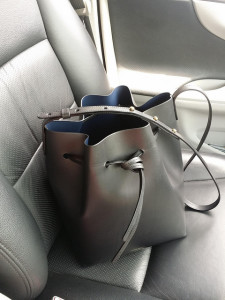 Can a bag be protected by trade dress?
A bag can be protected by trade dress, a form of trademark. For instance, the trade dress of Hermès Birkin bag is a registered trademark and so is Longchamp's foldable bag. To be protected by trade dress, the product must be able to indicate its source, just as a trademark does. This means that when a consumer sees the product, he must be able to recognize which company put it on the market. Mansur Gavriel claims this is the case for their bucket bag and related products.
This is how the complaint describes the MG bucket bag:
"(1) a bag constructed from two pieces of leather that are cut, folded, and sewn to create a design that is clean and crisp, structured and sleek, rigid and minimalist in design, (2) contrasting interior and exterior colors, (3) minimal stitching and hardware, (4) a brand logo in small metallic font centered at the front bottom of the bag, (5) a drawstring closure cinched through openings with no hardware or very subtle hardware, and (6) a long adjustable strap with flat construction and subtle metal detailing."
As such described, Mansur Gavriel claims that the bucket bag can serve as an indication of origin: you see this bag in a store, you immediately know it is a Mansur Gavriel bag, not, say, a Kate Spade or a Coach bag.
To be protected by trade dress, the bag must be distinctive.
Section 2 (f) of the Lanham Act provides that a descriptive mark can be registered if it "has become distinctive of the applicant's goods in commerce." To be protected by trade dress, a bag must be inherently distinctive or must have acquired secondary meaning. However, inherently distinctive trade dress is not required to prove secondary meaning, see Two Pesos, Inc. v. Taco Cabana, Inc., 505 US 763, 774. A trade dress may be registered or unregistered. Masur Gavriel has not registered the trade dress of its bags.
Mansur Gavriel claims in its complaint that the trade dress of the MG bucket bags and the trade dress of its associated bags and related goods are inherently distinctive, non-functional, and have acquired secondary meaning. The complaint further claim that this "unique and distinctive trade dress" extends to the other associated Mansur Gavriel bags and accessories, which also bear a combination of these features.
If the case goes to trial, Mansur Gavriel will have to prove that the bags are inherently distinctive or have acquired secondary meaning. It could do so by showing evidence of the length of use, how much they spend on advertising, their promotion expenditures, media coverage, and sales figures. Plaintiff indeed argues in the complaint that it "has acquired substantial public recognition and good will" for its MG bucket bag, associated bags, and accessories, and further claims that these bags are "instantly recognizable to the public."
To be protected by trade dress, the bag must be non-functional.
To be protected under section 43(a) of the Lanham Act, trade dress must not be functional, Qualitex Co. v. Jacobson Products Co., 514 US 159,165. In Qualitex, the Supreme Court explained that a product feature is functional, and thus cannot be a trademark, "if it is essential to the use or purpose of the article or if it affects the cost or quality of the article," meaning that the "exclusive use of the feature would put competitors at a significant non-reputation-related disadvantage." Therefore, functionality is available to Defendants as a defense.
Defendant could thus argue that what Plaintiff claims to be trade dress are instead functional elements of the bags, which are essential to their use and purpose, or affect their costs. For instance, Defendants could claim that preventing them from not using metallic grommets affects the cost of manufacturing a bucket bag. Also, they could claim that a drawstring closure is what defines a bucket bag, a bag which has a history, as its popularity has come and gone in the last one hundred years or so. Defendants should be well inspired to study closely this chapter of fashion history, and to find historical examples of the use of the same features they used to create their own bags.
Infringement: Plaintiff needs to show confusion.
Since a bag protected by trade dress is recognized by the public as designating its source, a trade dress is infringed by a similar product which creates consumer confusion, which is a "false designation of origin" under Section 43(a) the Lanham Act.
The complaint offers a side by side comparison of Plaintiff's bucket bag, tote, wallet backpack and lady bag, and the Schöneberg bags which are manufactured and sold online by Defendants, and alleges that Defendant's bags "are nearly identical to and are colorable imitations of Plaintiff's unique, distinctive MG [b]ucket [b]ag [t]rade [d]ress.
The complaint further alleges that Defendants' bags are "likely to continue to cause confusion in the marketplace." However, the complaint does not list any instances of such confusion.
Several fashion accessories companies have successfully protected their products lately by claiming trade dress infringement, such as Adidas or Christian Louboutin. This new case is thus interesting to keep on our watch list.
Image is courtesy of Flickr user Geroithe Chia under a CC BY-SA 2.0 license.






by